This open house was active from July 25-August 31, 2022. Information on this website may no longer be current. Email us for more information.
Ride Connection, Inc. public transportation services in Washington County
Community Connector Shuttles are a right-sized (often 14 passenger) public transportation option to fill a service gap that connects community members to the larger transit network. Ride Connection, Inc. operates four Community Connector Shuttle services on behalf of Washington County in partnership with TriMet. Community Connector Shuttles are free and open to all community members.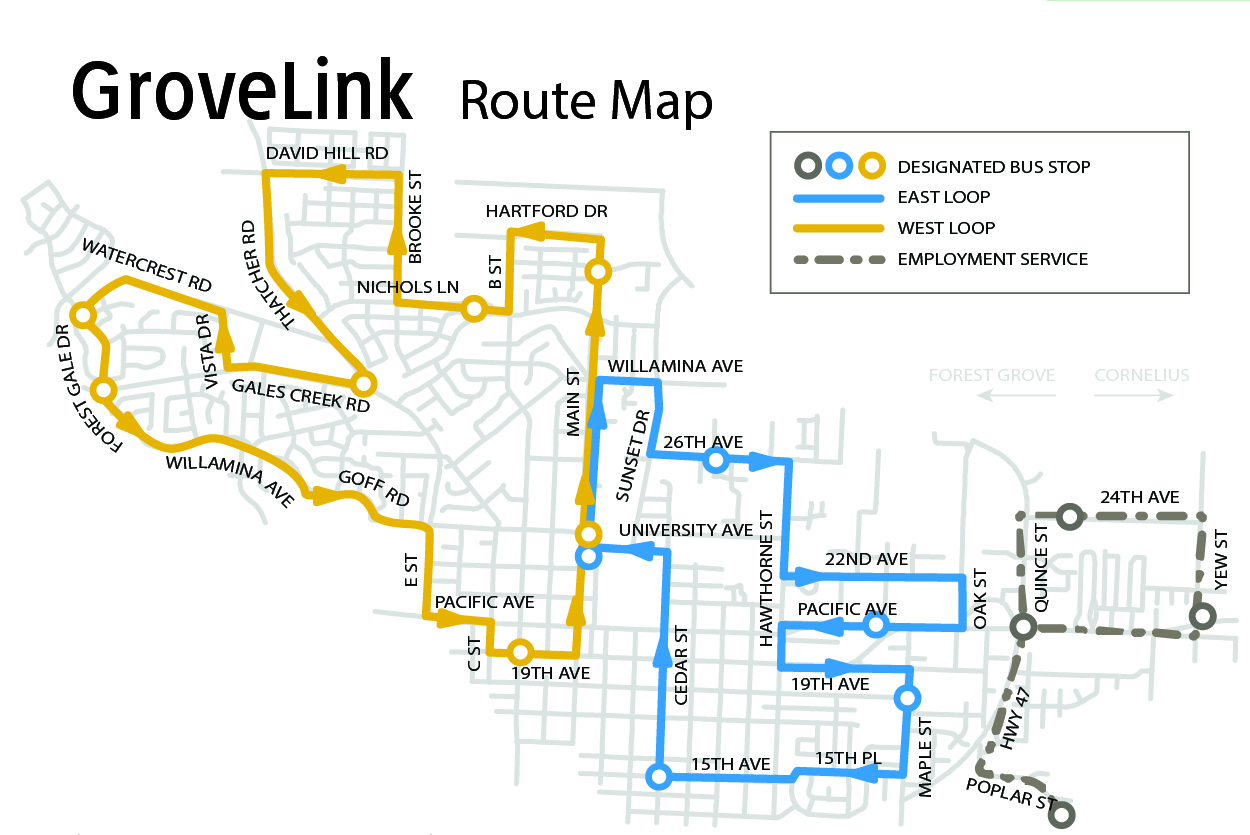 GroveLink
GroveLink serves the Forest Grove and Cornelius area and connects with TriMet Bus 57 for frequent service to MAX, schools, shopping and other daily needs. Started in August 2013, service and expanded  in 2021 with new Saturday service and more weekday service. Two weekday loops (East and West), and an employment loop operate on weekdays and a single loop runs on Saturdays.
View weekday schedule   |   View Saturday schedule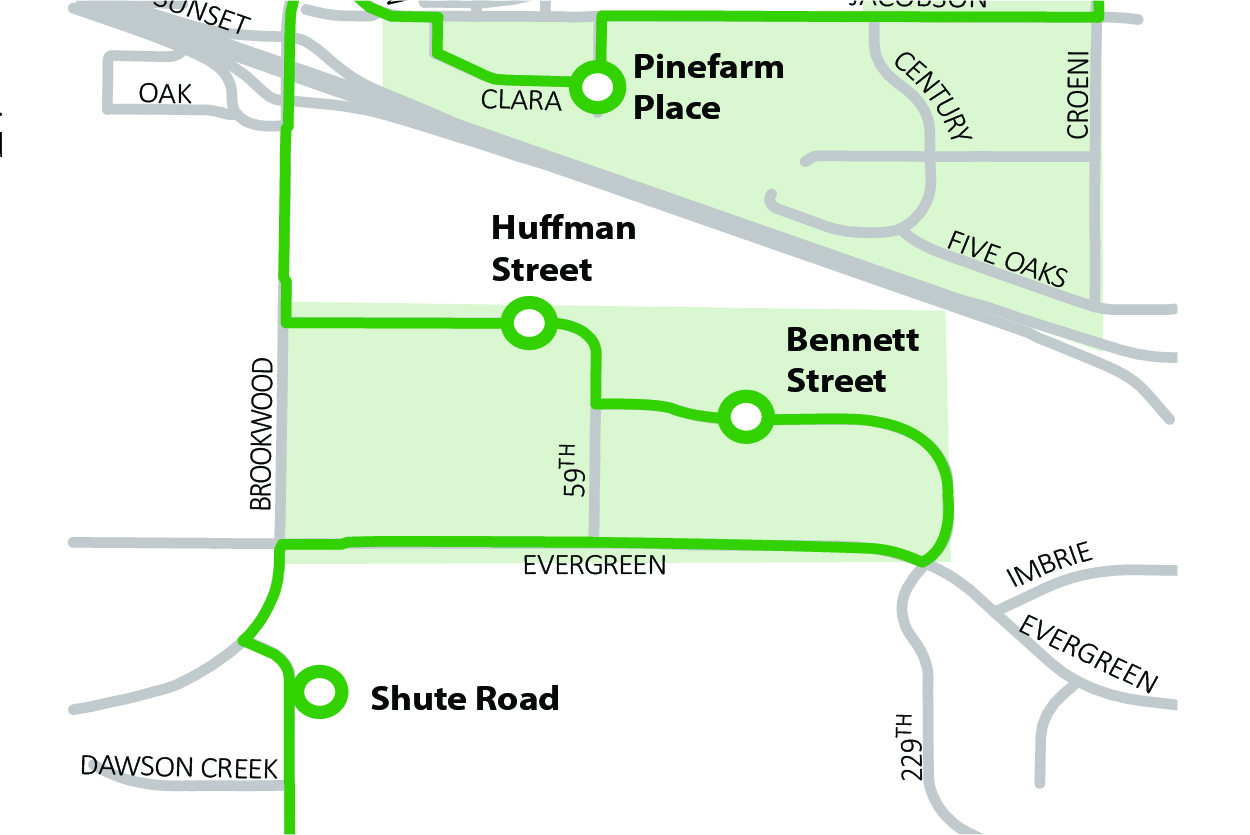 North Hillsboro Link
North Hillsboro Link service started in November 2015 and was expanded in October 2018 with more weekday service and new Saturday and Sunday service. It operates weekdays and weekend, with weekday service running about every 25-20 minutes and weekend service about every 45-60 minutes.
View schedule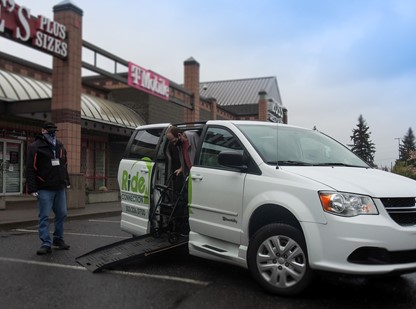 Door-to-door Services
Door-to-door provides service to all Washington county residents in areas outside the TriMet service district. Service is door-to-door to and from destinations in Gaston, Banks, North Plains, Timber, Forest Grove, Cornelius, and Hillsboro. Customers can request trips as far east as SW 185th Avenue (north of Kemmer Rd)- SW 175th Avenue/SW Roy Rogers Road (south). Operation hours are between 6 am and 7 pm, Monday through Saturday. These services are free and open to all members of the public.
Door-to-Door Services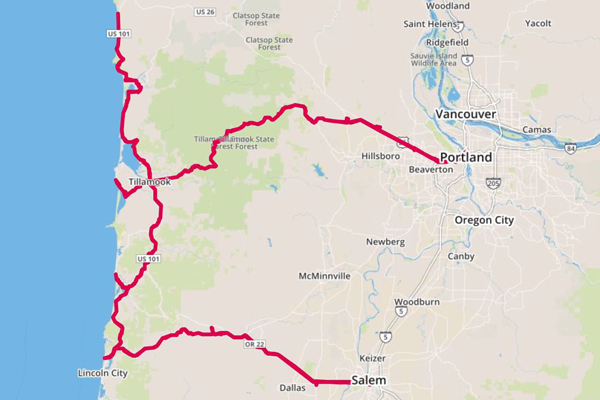 Cross-County Services
Tillamook County Transportation District: Route 5, also known as "THE WAVE," operates two daily trips between Portland Union Station and Tillamook Transit Center, with intermediate stops in Beaverton, Hillsboro, North Plains, Banks and Tillamook State Forest. A third midday trip is planned to start summer 2022. Passengers traveling between Portland and Banks or North Plains can ride for free. Connections to Forest Grove and Hillsboro are available via Ride Connection's WestLink.
NW Connector (The Wave)
Workforce shuttles
Rural workforce shuttles provide transportation between cities and agricultural or other rural employment centers.
Learn more at Public Transportation Services in Washington County.